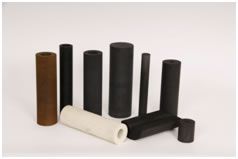 Founded in 1970, Multipure International has grown to become one of the world's largest compressed carbon block filter manufacturers. Utilising the company's proprietary compression molding techniques, we produce high performance carbon block filters for leading companies around the globe. Using only superior quality materials and relying upon our meticulous quality control processes, Multipure has become the supplier of choice for companies focused on delivering the most effective filtration solutions to their customers.
Custom carbon block filters can be manufactured to OEM specifications in an unlimited variety of shapes and sizes. Filters also may be formulated to meet specific contaminant reduction requirements, such as arsenic, lead, cyst, VOC, asbestos, chloramine, and more. With an in-house testing laboratory and highly skilled staff, Multi-Pure is able to consistently produce custom filters to meet exacting specifications.

As we produce our own custom tooling, Multipure has the ability to quickly respond to project requirements and to rapidly develop R&D prototypes for testing. Additionally, we have the ability to address production runs of any size, small or large. Multipure owns and maintains two NSF-approved manufacturing facilities, and we have many years of experience assisting companies in producing filters that will meet stringent certification requirements.  Whether you need an unfinished carbon block to embed in your water filter product or a complete drinking water system, Multipure is a dependable and responsive supply partner for customers of all sizes.
More Information on Custom Contract Manufacturing
Multipure would be pleased to provide a quote to meet your unique requirements. Your answers to the following questions will help guide our product design and pricing for custom carbon block filter manufacturing:
Are you interested in an unfinished filter block, or a finished filter with end caps and wrap?
- If it is a finished filter, can you provide an end cap design? Would you prefer to provide us with end caps to use in production?
- Can you provide us with samples (e.g., filters, blocks, housings, etc.) or drawings to base our design on?
What are the requested dimensions of the finished filter and/or unfinished block (outside diameter, inside diameter, and length)?
What are the ranges for operating pressure and flow rate?
What contaminants must be filtered and what is the desired capacity for each contaminant?
Will the product be certified?
- If so, for what standards and contaminants?
Will the product use a Performance Indication Device?
What is your required timeframe for initial delivery?
What is the delivery location?
What region will the product be marketed in?
Who is your current filter supplier?
What do you anticipate your filter purchase volume will be (minimum order and annual)?
What target price have you budgeted for the filter?