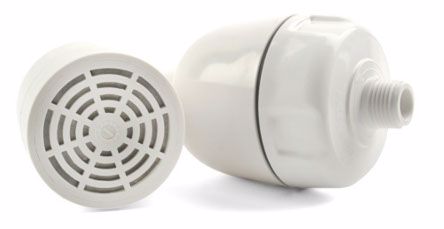 At Multipure, we believe in healthier water in every aspect of your daily life, not just the drinking water. Our Multipure de-chlorinating shower filter provides a long lasting solution to the problems associated with exposure to excessive amounts of chlorine. Its specially-formulated KDF filter media effectively reduces 90% or more of chlorine from shower water. Once in contact with the KDF, chlorine in the water converts into an environmentally safe and harmless soluble zinc chloride.
Because of this superior chlorine reduction, you will see changes in the way your hair and skin feel including -
healthier, younger-looking skin

softer, more manageable hair

relief from dry skin and scalp

less fading on color-treated hair
The Multipure Shower Filter includes Crystalline Quartz technology in its media for an energized shower experience. These specially-cured crystals act upon the water to create a softer, more energized shower "feel" and improve lather and suds.
Multipure's Shower Filter is specifically engineered for efficiency and performance. Its unique filter design provides the best shower experience available for you and your family.
Special note -
We only recommend you use a low-flow showerhead with Multipure shower filters.
The Multipure shower filter has been tested according to NSF/ANSI 177 for reduction of free available chlorine. The concentration of free available chlorine in water entering the system was reduced to a concentration less than or equal to the permissible limit for water leaving the system, as specified in NSF/ANSI 177. Multi-Pure offers a number of shower heads for the shower filter. These are water delivery mechanisms only. They are not performance tested or certified by WQA. Only the filters are certified